Billboard elege as 100 melhores músicas de girl groups dos últimos tempos
'Be My Baby', do grupo Americano The Ronettes, sucesso nos anos 1960, ficou com a primeira colocação.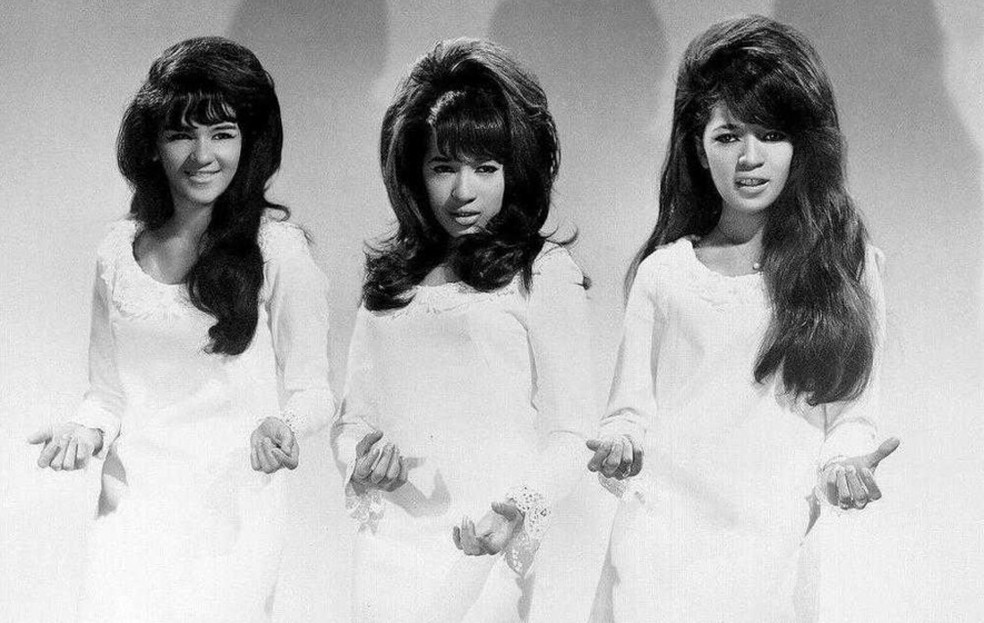 The Ronettes (Foto: Reprodução)
A Billboard reuniu em uma lista só grande parte da mulherada que fez história na música internacional e criou uma lista com os 100 maiores hits de girl groups dos últimos tempos.
O ranking traz trabalhos que vão da década de 1950, com o quinteto do grupo The Bobbettes, até as meninas do Fifth Harmony, o nome mais recente neste mercado.
Qual a melhor música de girl group dos últimos tempos?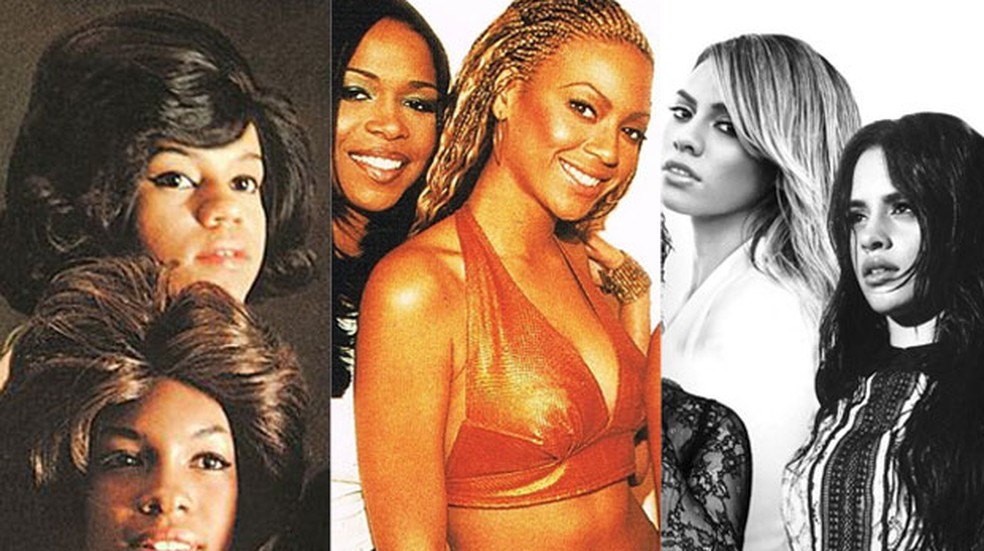 Ao longo dessas seis décadas, foram muitos os sucessos que fizeram história na música. E a campeã eleita pela Billboard foi "Be My Baby", lançada em 1963 pelo The Ronettes. A banda norte-americana formada pelo trio Veronica "Ronnie" Bennett, Estelle Bennett e Nedra Talley, fez fama na década de 1960.
Em seguida vieram as faixas "Creep" (TLC), Will You Love Me Tomorrow?" (The Shirelles), "Where Did Our Love Go?" (The Supremes) e "Wannabe" (Spice Girl).
Confira a lista completa das 100 melhores músicas de girl groups dos últimos tempos pela Billboard:
100. The Paris Sisters, "I Love How You Love Me" (1961)
99. Wilson Phillips, "Impulsive" (1990)
98. L.A.X. Gurlz, "Forget You" (2006)
97. B*Witched, "C'est La Vie" (1998)
96. Atomic Kitten, "Whole Again" (2001)
95. The Exciters, "Tell Him" (1962)
94. The Pointer Sisters, "Automatic" (1984)
93. Apollonia 6, "Sex Shooter" (1984)
92. Little Mix, "Move" (2013)
91. Richgirl, "He Ain't Wit Me Now (Tho)" (2009)
90. The Supremes, "Love Is Like an Itching in My Heart" (1966)
89. 3LW, "Playas Gon' Play" (2001)
88. Fin.K.L., "Now" (2000)
87. Sweet Sensation, "If Wishes Came True" (1990)
86. The Cookies, "Don't Say Nothin' Bad (About My Baby)" (1963)
85. Klymaxx, "Meeting in the Ladies' Room" (1985)
84. Brownstone, "If You Love Me" (1994)
83. Shirley Gunter & the Queens, "Oop Shoop" (1954)
82. Martha and the Vandellas, "Jimmy Mack" (1967)
81. Eden's Crush, "Get Over Yourself" (2001)
80. Electrik Red, "So Good" (2009)
79. The Bobbettes, "Mr. Lee" (1958)
78. The Jaynetts, "Sally Go 'Round the Roses" (1963)
77. Destiny's Child, "Independent Women (Part I)" (2000)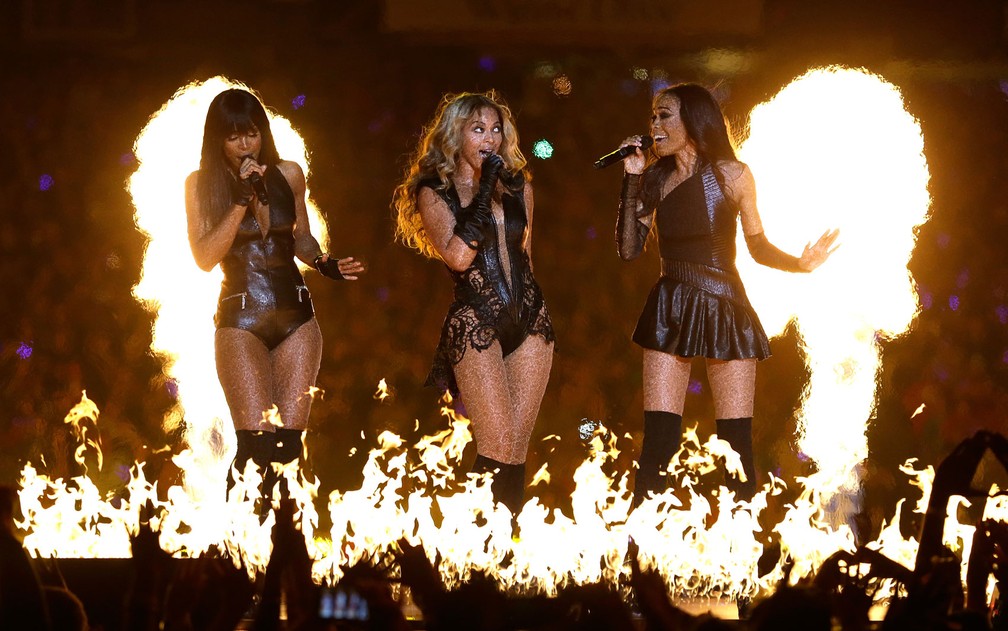 Beyoncé comanda o Destiny's Child em apresentação no intervalo do Super Bowl, a final da liga americana de futebol americano, em Nova Orleans, EUA. (Foto: AFP/Ezra Shaw/Getty Images)
76. Play, "I Must Not Chase the Boys" (2003)
75. The Blossoms, "That's When the Tears Start" (1965)
74. Bananarama, "Robert De Niro's Waiting (Talking Italian)" (1984)
73. The Chiffons, "He's So Fine" (1962)
72. SWV, "Weak" (1993)
71. The Marvelettes, "The Hunter Gets Captured By the Game" (1966)
70. Red Velvet, "Dumb Dumb" (2015)
69. Expose, "Exposed to Love" (1985)
68. The Pussycat Dolls, "Stickwitu" (2005)
67. The Three Degrees, "When Will I See You Again?" (1974)
66. Sister Sledge, "He's the Greatest Dancer" (1979)
65. Girls Aloud, "Love Machine" (2004)
64. The Cake, "Baby That's Me" (1967)
63. The Ikettes, "I'm Blue (The Gong-Gong Song)" (1961)
62. Spice Girls, "Spice Up Your Life" (1997)
61. Mary Jane Girls, "All Night Long" (1983)
60. The Chantels, "Maybe" (1957)
59. f(x), "Rum Pum Pum Pum" (2013)
58. Xscape, "Who Can I Run To?" (1995)
57. Fifth Harmony, "Sledgehammer" (2014)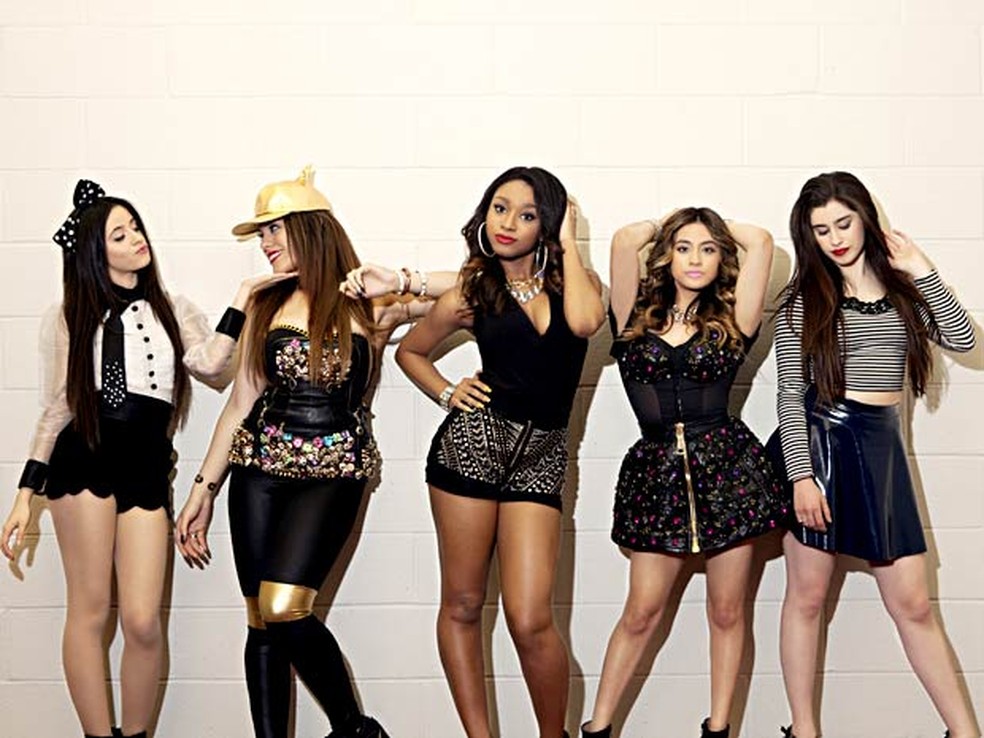 O grupo musical Fifth Harmony em sua formação original (Foto: Divulgação)
56. The Ronettes, "Baby I Love You" (1963)
55. The Crystals, "Da Doo Ron Ron" (1963)
54. Blaque, "Bring It All to Me" (1999)
53. Dixie Cups, "People Say" (1964)
52. Jade, "Don't Walk Away" (1992)
51. The Shangri-Las, "Give Him a Great Big Kiss" (1964)
50. G.R.L., "Ugly Heart" (2014)
49. The Cover Girls, "Show Me" (1986)
48. The Pointer Sisters, "Fire" (1978)
47. All Saints, "Never Ever" (1997)
46. 702, "Where My Girls At?" (1999)
45. The Sugababes, "Freak Like Me" (2002)
44. The Shirelles, "Mama Said" (1961)
43. Wonder Girls, "Nobody" (2008)
42. TLC, "No Scrubs" (1999)
41. En Vogue, "Free Your Mind" (1992)
40. Destiny's Child, "Survivor" (2001)
39. Danity Kane, "Damaged" (2008)
38. The Supremes, "Stop! In the Name of Love" (1964)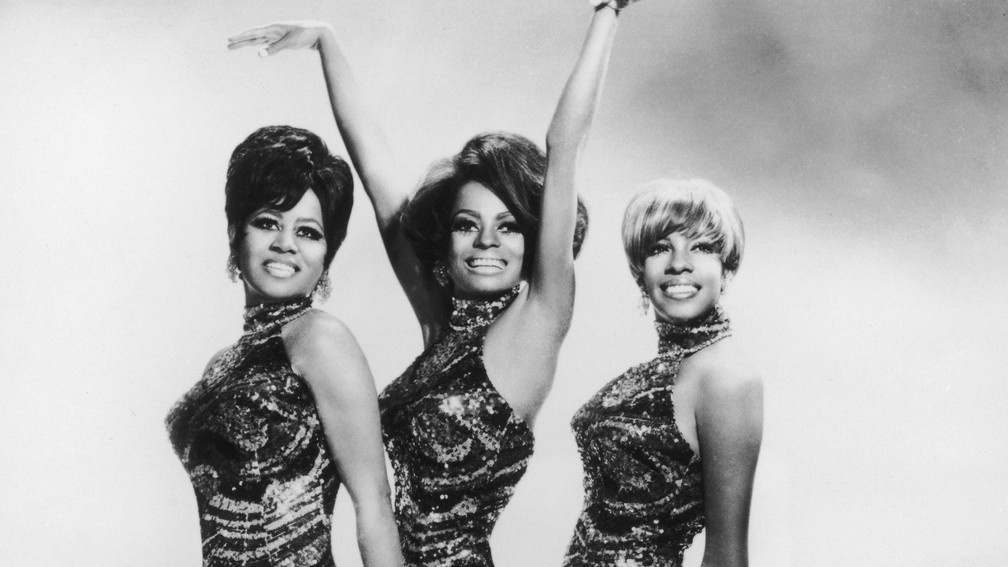 The Supremes (Foto: Reprodução)
37. Vanity 6, "Nasty Girl" (1982)
36. Dream, "He Loves U Not" (2000)
35. The Tammys, "Egyptian Shumba" (1964)
34. Little Mix, "Black Magic" (2015)
33. Dixie Cups, "Chapel of Love" (1964)
32. Girls Aloud, "Biology" (2005)
31. The Crystals, "He's a Rebel" (1962)
30. The Pussycat Dolls, "Don't Cha" (2005)
29. Martha and the Vandellas, "Dancing in the Street" (1964)
28. Total feat. The Notorious B.I.G., "Can't You See" (1995)
27. The Chiffons, "One Fine Day" (1963)
26. The Shangri-Las, "Remember (Walking in the Sand)" (1964)
25. Spice Girls, "Say You'll Be There" (1997)
24. The Angels, "My Boyfriend's Back" (1963)
23. The Pointer Sisters, "I'm So Excited" (1982)
22. The Marvelettes, "Please Mr. Postman" (1961)
21. Girls' Generation, "I Got a Boy" (2012)
20. Sister Sledge, "We Are Family" (1979)
19. The Supremes, "You Can't Hurry Love" (1966)
18. The Pipettes, "Pull Shapes" (2006)
17. SWV, "Right Here" (Human Nature Remix) (1992)
16. Labelle, "Lady Marmalade" (1974)
15. Wilson Phillips, "Hold On" (1990)
14. Fifth Harmony feat. Ty Dolla $ign, "Work From Home" (2016)
13. Bananarama, "Cruel Summer" (1983)
12. Martha and the Vandellas, "Heat Wave" (1963)
11. TLC, "Waterfalls" (1995)
10. The Emotions, "Best of My Love" (1977)
9. The Shangri-Las, "Leader of the Pack" (1964)
8. The Crystals, "Then He Kissed Me" (1963)
7. Destiny's Child, "Say My Name" (1999)
6. En Vogue, "My Lovin' (You're Never Gonna Get It)" (1992)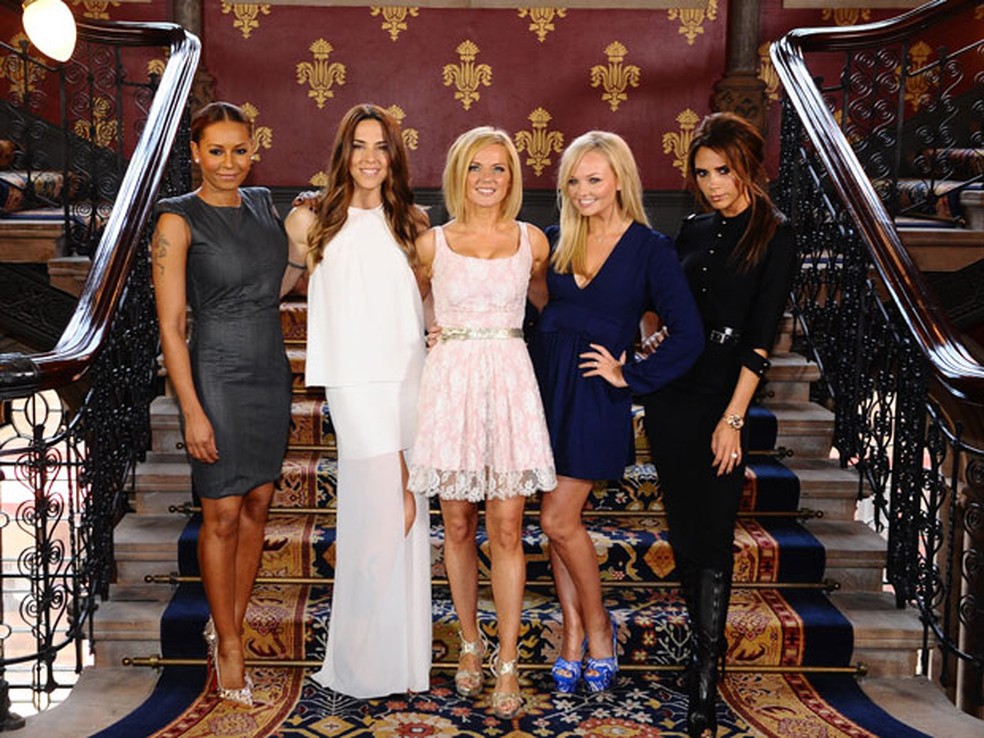 Spice Girls lançaram o musical "Viva forever" (Foto: AP )
5. Spice Girls, "Wannabe" (1996)
4. The Supremes, "Where Did Our Love Go?" (1964)
3. The Shirelles, "Will You Love Me Tomorrow?" (1961)
2. TLC, "Creep" (1994)
1. The Ronettes, "Be My Baby" (1963)
Fonte: G1 – Música